Professional, interactive, realtime charts in your Xojo applications on Mac, Windows and Linux. Desktop, Console and Web projects.
New ChartDirector 7.0
New for 2021 and Omegabundle for Xojo 2021, Chart Director 7adds more features and more power:
Treemap charts
Discrete heat maps
Circular bar meters/guages
New surface chart features

4D charts
Surface projections
Custom surface lines, zones and images
Surface Chart Tooltips

Contour cross section and tooltips. It also demostrates coloring an XYChart (the cross section charts) using a contour layer color axis.
Multi-color line chart
There are some ChartDirector version 7 features cannot be easily demonstrated using static images, so we have not prepared images for them. They include:
Scalable bitmap output (useful for High DPI support, and high resolution printing usage)
Multi-Page PDF output (allows user to generate simple PDF reports without a separate PDF library)
Big Data support - charts with 100M points updated in realtime, with zooming/scrolling and track cursors
CDML support in tooltips. This allows tooltips with icons, complex text formatting, semi-transparent background, etc..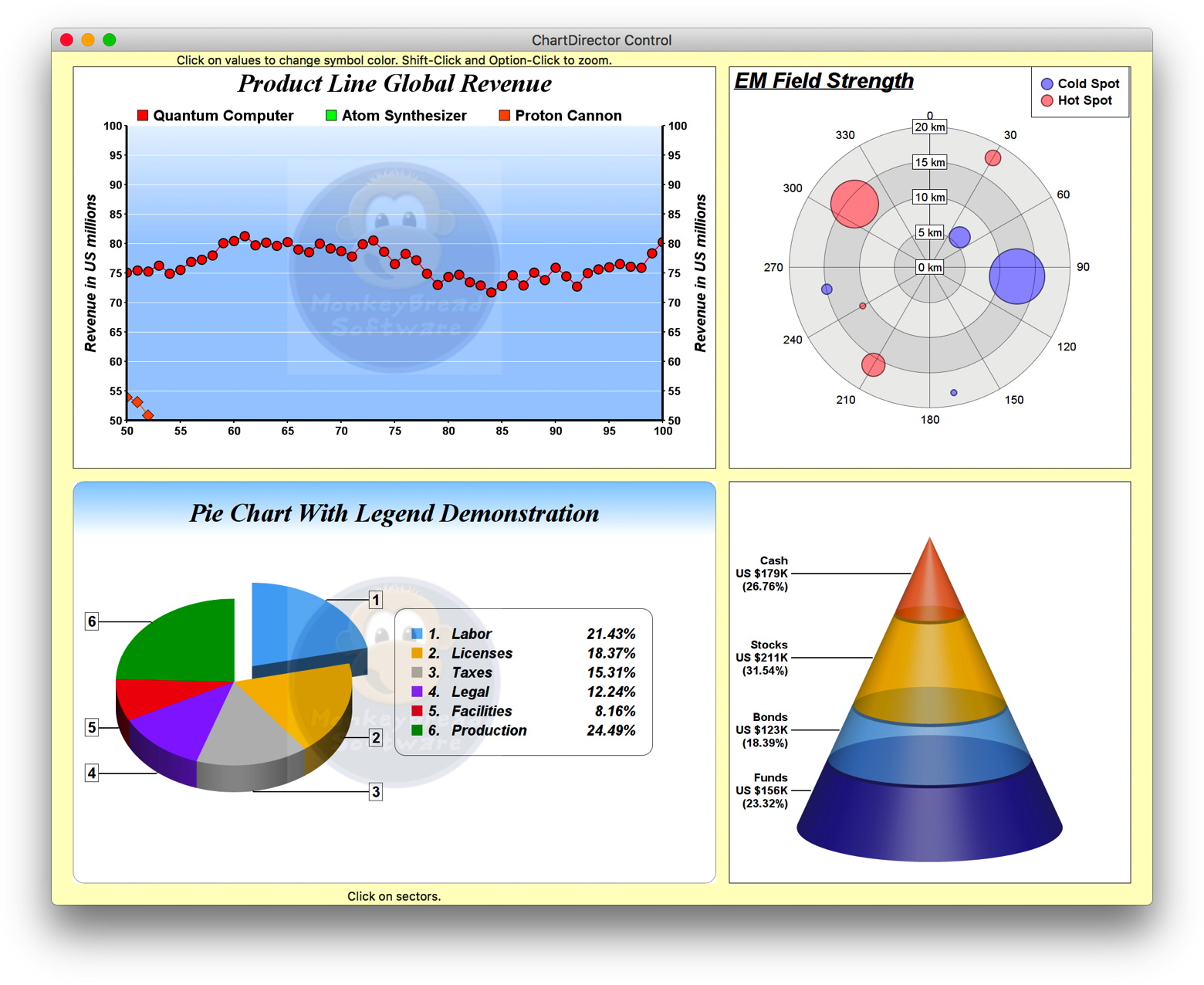 ChartDirector 7 arrived. We include 17 new example projects to show new features including Treemap chart, Discrete Heat Map, Circular Bar Meter, Multi-Page PDF Output, Huge Data Set Support and High DPI Support. We added CDViewPortControlBaseMBS class and the new RealTime ViewPort example.
General Features of MBS ChartDirector for Xojo
Professional charts in Xojo
Per developer royalty free license for Mac OS, iOS, Windows and Linux
Desktop, Console, iOS and Web projects
Full Unicode support
No external DLLs
one year of free upgrades
Create vector graphics as SVG files.
Export chart as PDF, PNG, JPEG, GIF, WMP and BMP.
Track cursor movements with a dynamic layer.
Use custom fonts.
See video with RealTimeViewPort in ChartDirector
Licensing Notes for MBS Xojo ChartDirector Plugin
The bundle includes a new MBS Xojo ChartDirector plugin license. 
Or if you have an existing license, we may extend your license for another year.